Maternity Clothes--versatile patterns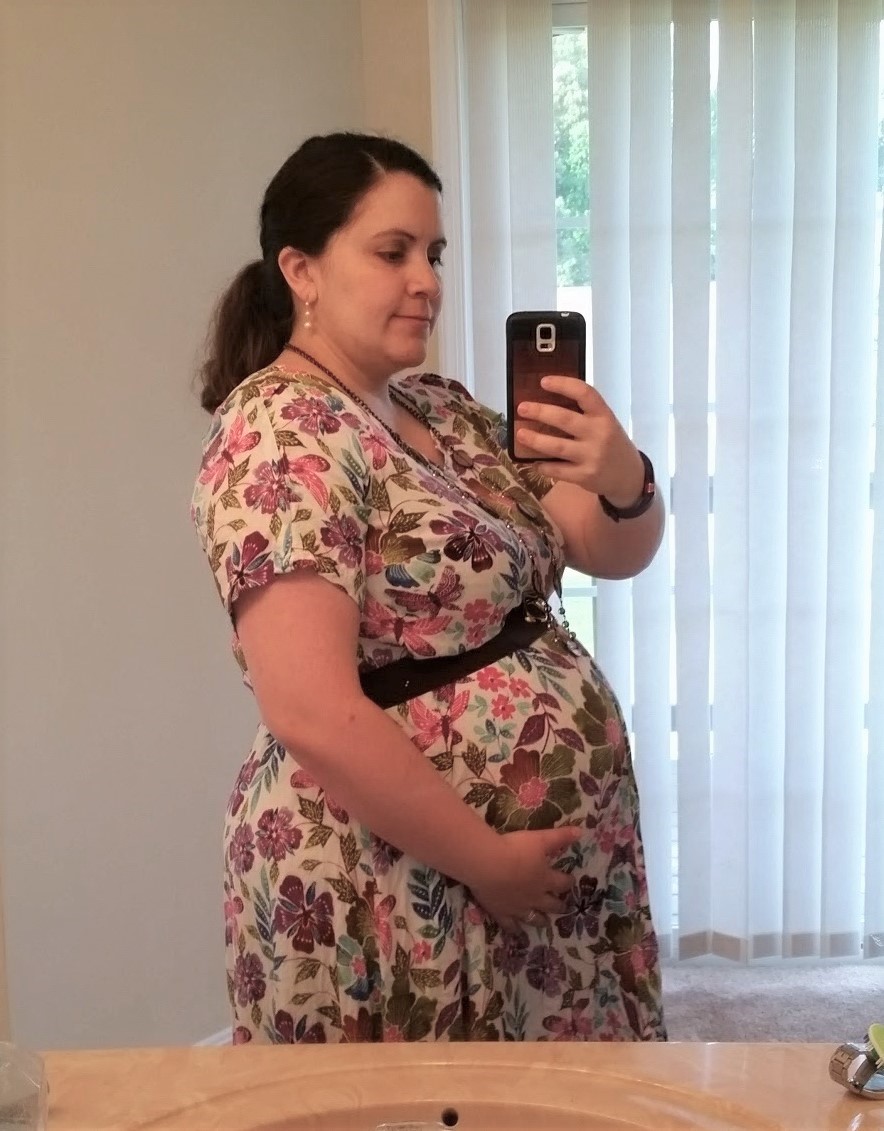 I'm 33.5 weeks along and I still fit into a surprising amount of my pre-pregnancy clothes! I decided to do a round-up of my clothes and patterns that still fit, or the ones that fit fairly far into my pregnancy. When possible I'll include a picture of what it looked like on me both pre-pregnancy and while pregnant. I've also made some items from patterns that I used before and made just a few changes to make them pregnancy-friendly, so I will include those as well. Several of these only fit because of the fabric I used, so I'll try to make sure to mention the fabric on each one.
First off, the Venice Dress by New Horizons Designs! I tested this dress, which is why I have some nicer photos of it than my normal bathroom selfies! This is a very flowy pattern and I always wear it belted. I wore it to church today and it still fits great all over. I belted it at church but it looked good without a belt too. This is woven and I made it from a rayon blend. You may notice that I sewed up the gaps in the sleeves. Those drove me crazy, haha.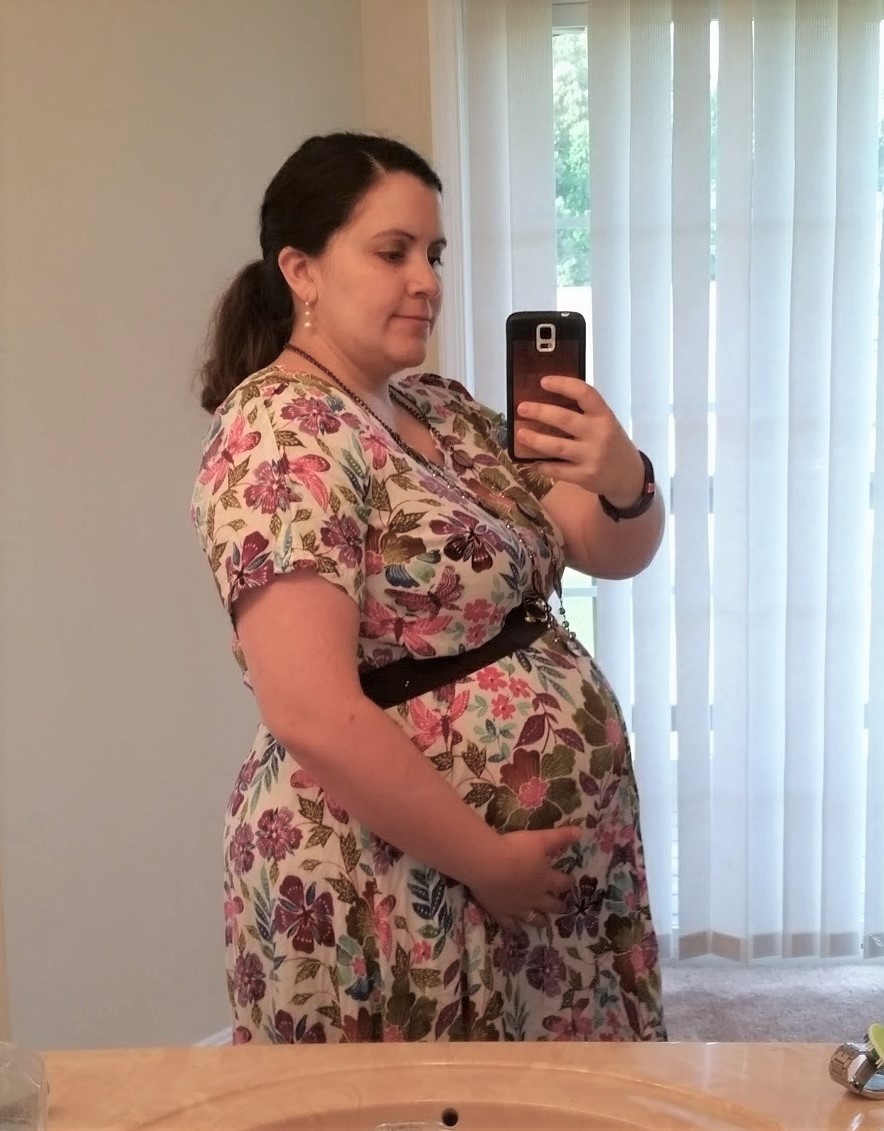 Next is another maxi dress, the Goddess dress by George and Ginger patterns. My photos of this are not so great--the before are by my then 6yo son, and the after photo was one I snapped while getting ready for church a couple weeks ago. For this one I actually took the belt off--I just couldn't quite breathe right while wearing it, but the dress looked great. This is also a rayon blend.
Next is yet another dress (I do have more than just dresses in this post!) This is my "muslin" for the Hey June Charleston Dress. I put muslin in quotes because after basting it together I took it apart and sewed it up with flat piping. What's funny is that I didn't wear this dress before I was pregnant because I felt like it clung to my stomach too much. But when you're pregnant, you don't mind so much! I was about 6 or 6.5 months pregnant in the pregnant shot. I have made two other Charlestons in the other pattern variation and I bet those would still fit too, but I made them with long sleeves so I haven't checked. Part of the reason this fits so well is that I graded out a size at the waist so it wouldn't be super fitted there. The brown and tan fabric are both stretch jacquard knits that I bought from Stylish Fabric.
Next, a bunch of tops! During winter I made a couple Boheme Sky tops from Striped Swallow Designs. The burgundy worked so well with my pregnancy that I made a maternity top from it. I ended up not making any changes to the pattern except I hemmed it just one inch instead of two. For this top and the subsequent maternity tops that are solid colors, I used heavier weight rayon spandex from Stylish Fabric. It's super stretchy and yet still a light weight fabric, so it work well for summer. Like the other solid tops I'm showing today, I made this while 6.5 months pregnant but it still fits great.
The Sweet Tee pattern by Patterns for Pirates is pretty versatile. I made a bunch last year with a few different hemlines and in a variety of knit fabrics. The ones I made with a curved hem did well this pregnancy, and this patterned rayon version still fits, though it may not make it much more. I don't have a recent photo, just one from a couple months ago, but it's still stretching over my stomach! The embroidered version I made for this pregnancy is just a little wider in the waist and I added maybe an inch to the front.
Next, the Bali Blouse by New Horizons. The light blue version I finally sized out of, but I was able to wear it for quite awhile. The burgundy and lace one still fits but just barely. I made the black and teal one last month and I made it a little wider and one inch longer. Also, the dark blue capris I'm wearing in the outdoors photo I'm still able to wear. They are made from knit jacquard from Stylish Fabric (just like my Charleston dress) and they are great. They sometimes constrict my stomach if I wear them too long. I made them out of white knit and brown jegging fabric as well, and the only changes I made were to have a taller, non-contoured waistband. The pattern is self-drafted, but it's similar to the Stitch Upon a Time Goldilegs patterns or the Love Notions Sabrina Slims.
Finally, my Carey by Itch to Stitch. I slimmed down this pattern in my original version because I don't like batwings, and so I added back in some width for the maternity version and an extra inch in the hem. This is a pattern that can be woven or knit but I've only made it with knit (and woven shoulder panels). I'll also mention my Kathryn Dress and Lindy Tulip skirt, also patterns by Itch to Stitch, that fit for a long time this pregnancy.
And that's everything! I hope this can be helpful to anyone considering a baby in the future while considering fabric and patterns and wondering how your clothes now will hold up.